With warmer temperatures comes the beginning of a new camping season. Now is the time to make sure your home away from home is ready for your upcoming camping trips. Making sure your camper is prepared is the first step to enjoying a summer filled with epic adventures. De-winterizing your RV can feel a bit overwhelming at first. But don't worry, in this article we are going to cover the basic items that should be on your RV spring checklist to make sure you and your camper are ready for adventure.
Let's jump in…
This post may contain affiliate links. As an Amazon Associate, we may earn a commission on qualifying sales at no extra cost to you.
RV Spring Checklist
Whether you're new to the RV lifestyle or a seasoned veteran, we all have at least one thing in common. We all use checklists. From setting up when we arrive at the campground to making sure our rigs are fully stocked with the right essentials, we all use a checklist of some kind.
One of the most important checklists we can use is a maintenance checklist, or in this case, an RV spring checklist.
With this RV spring checklist, you can rest assured that when it's time to hit the road, you'll be ready.
Let's get your camper ready for the upcoming camping season…
Spring Maintenance Tasks
The first thing we need to do to make sure our rigs are ready for spring is to tackle a few minor maintenance tasks. I mean, our campers have been stored for several months in some cases and they tend to need a little bit of TLC before hitting the road.
The main goal of an RV spring checklist is to make sure everything is in proper working order and all of the RV systems have been checked in a controlled environment. The campground is the last place you want to be when you find that your RV slides or your stabilizer jacks aren't working properly.
RV Batteries
If you didn't get a chance to use your camper through the winter months, chances are that your RV battery will need to be re-charged. RV batteries can lose up to 10% of their charge every month while in storage. If you were diligent with your RV maintenance and kept your RV batteries charged, you shouldn't have any issues.
However, many of us tend to neglect our rigs over the winter months, (us included). It's more of a case of "out of sight, out of mind".
The first thing you are going to want to do is re-charge your batteries. Once the battery, or batteries, are fully charged, top off the fluid levels with distilled water, if applicable. If you have a maintenance free battery, you won't need to do this.
If you are unable or uncomfortable performing this task, consult a qualified professional.
Water System
Making sure your RV water system is functioning properly and sanitized is a very important step in your RV spring checklist. If you winterized your RV at the end of last season, now is the time to de-winterize it.
Follow these three steps to make sure your water system is sanitized and in proper working order.
Remove the anti-freeze
Check for leaks
Sanitize entire water system
Begin by hooking up a potable water source to your rig and flushing the water lines, both hot and cold. Open water valves at all sinks, showers, and toilets to allow the anti-freeze to be flushed from the system. Once the anti-freeze has been flushed, replace any water filters that you may have removed prior to storing your RV for the winter.
To sanitize your RV water system, dilute ¼ cup of household bleach for every 15 gallons of water that your fresh water holding tank carries. For example, if your fresh water tank holds 30 gallons of water, pour ½ cup of bleach into the tank.
Turn on your fresh water pump, open all of your faucets, and let the water run until you begin to smell the bleach. Let the bleach solution sit in your lines for at least 12 hours. Once the 12 hours has passed, drain all water lines using your low-level bleeds under your camper.
Refill your fresh water tank with clean water and flush your water lines until you no longer have the bleach smell.
RV Tires
As you are going through each step of your RV spring checklist, pay close attention to your tires. Your RV tires can lose pressure while sitting in storage and an under-inflated tire can be disastrous on the road. Check the air pressure in all tires, including the spare, and inflate them to the manufacture's recommendations. Most tire manufacturers have a chart or graph on their website to guide you.
Check the overall condition of each tire while paying close attention to tread wear and sidewall cracks. Replace any tires that show excessive wear or cracks. In addition, RV tires should be replaced every five to six years, regardless of mileage. Check the side wall of the tire for the date it was manufactured.
Roof, Seams, Sealants
Very carefully climb on the roof of your RV to inspect the condition of the roof as well as the seals and sealants around vents, air conditioners, or antennas. The last thing you want in the middle of a camping trip is a leaking roof.
On the ground, do a thorough walk around of the camper, paying close attention to window sealants, door seams, and any other potential opening for water to get in.
Lippert carries an entire line of RV roof repair & sealants for any issues you might find that need addressed.
RV Safety Devices
Another pre-camping season check should be your RV safety devices. Afterall, these are the very important when it comes to the safety of our loved ones. When you pull your camper out of storage, be sure to check your fire extinguishers, smoke alarms, carbon monoxide detectors, and LP gas detectors. If you find any of these items expired, under charged, or malfunctioning, replace them immediately.
Air Conditioner
Before firing up the air conditioner, make A/C maintenance part of your pre-season checklist. Check and clean the A/C filters as well as any ducting that runs through your rig. For an in-depth article on RV air conditioner maintenance, check out RV Air Conditioner Maintenance; Staying Cool In The Summer.
Stabilizers
If your camper has manual stabilizing jacks, now is a good time to lubricate them. We use white lithium grease to lubricate the threads on our stabilizer jacks. All you need to do is place a small amount of grease on the moving parts and operate the stabilizers a few times up and down.
RV Awning
While we were going through our RV spring checklist this year, we had our awning LED strip light stick to the awning and as we extended the awning, part of the strip light pulled away. So, it's always a good idea to fully extend your RV awning to check for damage or any signs of wear.
Check out the video below to see how we repaired our RV awning light.  
Clean Out The Basement
Just like the closets and attic space in a standard home, things tend to accumulate. Now is the best time to essentially "purge" your RV basement storage area.
Often times we will have certain items that we all think would be a great fit at the campground only to find out later that we really didn't need them after all.
The general rule of thumb when it comes to tasks like this: If you don't use it, don't store it.
For More Storage Inspired Articles:
Wash The Exterior
Who wants to pull up to the campground in a filthy RV? Having a sparkling clean rig is one thing we make sure of when we begin our camping season.
If you don't have a place to wash your camper, there are many wash racks that are for 18-wheelers that several full-time RVers use.
Stock The Essentials
Now that you have your RV looking good and everything is working properly, the next step to a successful camping season is to stock the camper with the essentials you'll need.
You'll want to make sure you have plenty of RV safe toilet paper, clean linens on the beds, fresh towels, and anything else you can pack now that you can leave in the camper year round.
Time To Make Reservations
Congratulations. All of the hard work is done and it's time to enjoy the fruits of your labor. It's time to make those reservations for the upcoming camping season.
Booking a campsite can sometimes be a challenge, especially with so many travelers joining the RV community.
We suggest booking as far in advance as possible and using tools like RV LIFE Pro to plan your trips. Not only is this an easy way to search campgrounds, but it also features an RV GPS that takes the guesswork out of traveling to the next site.
It is a paid app, but what averages out to $5 a month is well worth the price for what the app offers.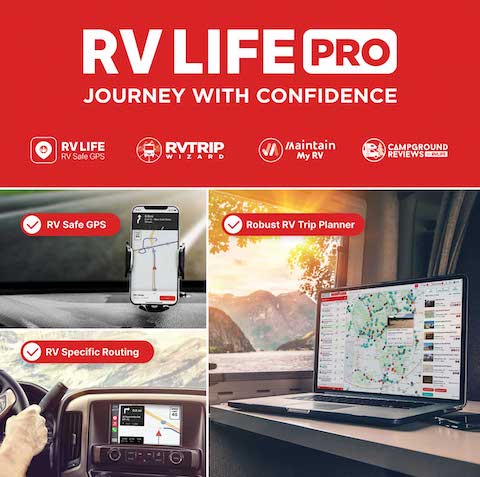 In Conclusion
Now that camping season is upon us, it's time to get that camper out of storage, dust off the cobwebs, and get it ready for the year ahead. Following these basic tips will get you safely on the road to your next great destination.
Like I mentioned before, the items in this RV spring checklist are just some of the most important checks you should be making to your rig every season.
Subscribe To Our Monthly Newsletter