RV ownership has been on the rise year after year. And as a result, the best RV campsites are typically reserved weeks, or months in advance. This makes it challenging for weekenders and part-time RVers to find a site for those spur of the moment camping trips.
How many times have you tried to take the family out for a weekend camping trip only to find that most, if not all, of the campsites are reserved? And if you do manage to grab one of the last sites available it's usually between the dumpsters and the toilets. Or within smelling distance of the dump station.
Sound familiar?
What would you say if I told you that we have found a fool-proof strategy for reserving the best RV campsites, at some of the most popular campgrounds? You might be shaking your head already in disbelief.
But it's true.
Over the past several years we have been using this strategy to reserve not only the best RV campsites, but cabins, screened shelters, or any other form of campsite imaginable. And we manage to score the absolute best sites in the process.
What is this wealth of knowledge, this Holy Grail of information we hold? Let's find out.
In this post we are going to share with you the best tips and our fool-proof strategy for scoring the absolute best RV campsites, at even the most popular RV campgrounds.
Let's jump in…
This post may contain affiliate links. As an Amazon Associate, we may earn a commission on qualifying sales at no extra cost to you.
Plan Ahead
The first step in our strategy is to plan ahead and check reservations as far in advance as possible. Check with your favorite campground to see how far in advance you can reserve a campsite. Some campgrounds and State Parks will take reservations up to 6 months in advance, while others may let you make campground reservations further out than that.
The biggest drawback we have found when planning that far in advance is unforeseen circumstances that just won't allow you to keep those plans. Check the cancellation policy of the specific campground when making reservations.
Reserve The Best RV Campsites During Off-Peak Weekends
I know this tip for reserving the best RV campsites sounds, well, obvious. But let me explain. We all know that there are weekends that are just going to busier than others. Think July 4th, Memorial Day, Labor Day, etc.
If you want to score the best RV sites at the most popular campgrounds, avoid these weekends. The best sites have been reserved for months in advance. The chances of you scoring a site during peak weekends, especially at the last minute, are slim to none.
Instead, try to make plans around the off-peak, or less busy, weekends. Doing this will greatly increase your chances of reserving one of the best RV sites.
Make Reservations During The Week
If you are fortunate enough to have a job that offers a paid vacation, take the week off to go camping. This strategy has worked for us on more than one occasion.
It doesn't matter how popular the campground is, there will be plenty of RV sites available during the week.
There is a special feeling you get when you watch the other families pack up and head back home on Sunday when you are just arriving to the campground.
Be Diligent In Your Reservations
If you find that there are no available RV campsites for the weekend you are planning to go camping, call the campground and see if they have a waiting list for cancellations.
If not, check in with the park occasionally to see if anyone has cancelled. You just might be able to scoop up a campsite.
This part of the strategy is hit-or-miss and there is no guarantee that you will score a site.
The Best Time Of Year To Reserve The Best RV Campsites
What is the absolute best time of year to reserve an RV campsite?
The week after Labor Day weekend. Let me explain.
When September comes around, most schools and colleges are back in session. Which means that families with younger, or college aged children, have taken their summer vacations and are getting back to everyday life.
Labor Day is the last weekend for everyone to let their hair down before real life kicks back in.
Every time we have made our RV camping reservations for the week following Labor Day, we have ultimately had our choice of any RV campsite at the campground.
How To Find The Best RV Campsites
But how do we find the best RV campsites? Below are a few options you can use when searching for that perfect campsite.
Online RV Campground Map
The first thing we look at is the online park map when we are checking out a new campground. Of course, this only provides a basic overview of the RV sites. It doesn't show shade trees, topography, or any views of the scenery.
Use Google Earth
Google Earth is another great tool when it comes to finding the best RV campsites. Once you find those potential campsites that you like from the park map, look at the campground on Google Earth. This will give you a better perspective on things you normally can't see on the park map.
Keep in mind that Google Earth can only give you so much information. The only true way to find the perfect RV site for you and your family is to visit the campground.
Check The Campground Reviews
There are several resources online available for checking up on a potential RV campground. If you want to read about the experiences of fellow RVers, just Google RV campground reviews.
Some of the more popular review sites are Good Sam, The Dyrt, and Campendium. There are also many apps you can download to your smartphone that will provide this information in the palm of your hand.
Simply visit one of these sites and check for reviews of the campground you're interested in.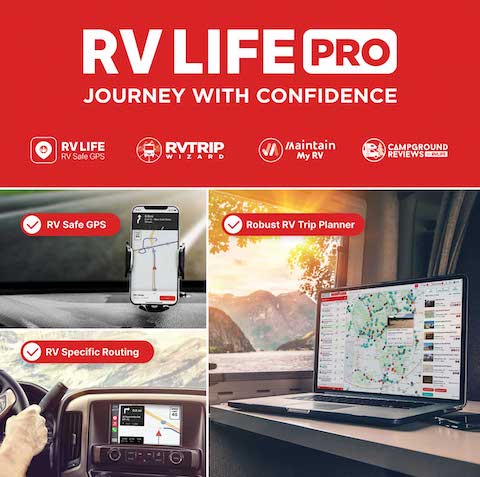 Visit The Campground Ahead Of Time
Since we are weekenders, our camping trips are limited to a maximum radius from home. Typically, we will only travel a maximum of two to three hours from home.
When we find an RV campground within that radius, we take a quick road trip before making any kind of reservations. This gives us the chance to actually see the campsites in person and get a better view of things that you can't see on a map or Google Earth.
We always stop at the office or talk to the gate attendant to get a park map and let them know that we are on a scouting mission for the best RV campsite. In most cases they will waive the entry fee and allow you to go into the campground for a few minutes to check it out.
As we drive around the campground, we make note of the campsites that we feel would be the best fit for us and our dogs. Once we have our list of potential RV campsites, we start making plans for a weekend RV camping trip.
In Conclusion
Most people will say that there are no "bad" campsites, just some are better than others. I agree to a point. We have been in some pretty terrible RV sites over the years as well as some amazing RV sites too. When it comes to finding and reserving the best RV campsites, the tips listed above will certainly guarantee a reservation, at an awesome campsite.
What system do you use when it comes to reserving a campsite for the weekend? Leave us a comment below and tell us about it.
Subscribe To Our Monthly Newsletter